"Over the past eighteen months, you successfully completed a large and complicated project for us with top quality performance." ~ The Roman Catholic Church of St Therese of Lisieux
WE SUPPORT AND ADVANCE YOUR MISSION
by helping you deliver more of the funds raised to the needs of your house of worship
One of the foundations of a successful fundraising plan is to show donors how much you appreciate their support. The very best type of appreciation transforms a simple "thank you" into a lasting, beautiful addition to your space itself.
We offer artistic and tasteful religious recognitions for all denominations and all budgets, in the form of plaques, walls of honor, trees of life, eternal flame, crosses, memorials, doves of peace, and resurrection walls.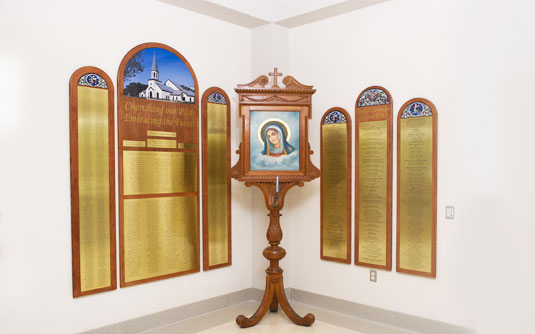 RELIGIOUS DONOR WALLS
RECOGNIZE THOSE WHO'VE DONATED OR PASSED ON
Resurrection Wall
Two panels meet at the top, creating a beautiful frame for a bronze-colored statue of Christ. SIZE: Each of the two panels measure 30" wide x 60" tall. Statue is 36"x 36". CONSTRUCTION: Laser-cut acrylic panels feature a subtle scenic background laminated to the reverse side. The gold plaques are mounted on the front side of the acrylic panel. OPTIONS: Available with 200, 300, 400, or 500 leaves.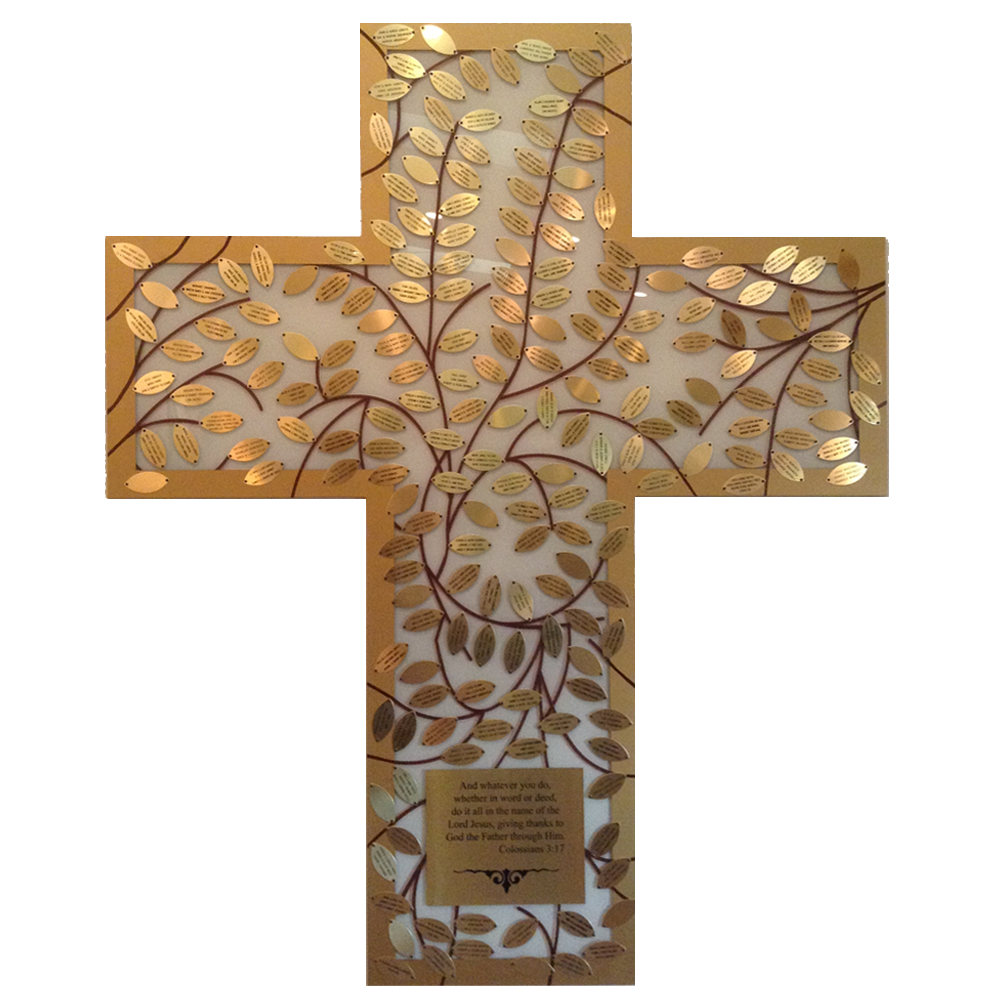 Donor / Memorial Cross

This cross features laser-cut gold leaves, along with a brass dedication plaque that can be engraved with a motto or personal dedication. SIZES: Small cross is 5" wide x 6' tall & large cross is 6' wide x 7' tall. CONSTRUCTION: 3/8" thick acrylic cross has a laminated frosted background. The front side has a painted border and vine. Leaves are screw-mounted. OPTIONS: Available with 100, 200, 300 or 400 leaves.
Tree of Life
This represents the lives of the members of your congregation from marriage, birth, baptisms, graduations and anniversaries. Memorializing loved ones and commemorating honors. CONSTRUCTION: Laser-cut acrylic panels are laminated with subdued colors appropriate to your building's interior. The leaves are screw-mounted. OPTIONS: Available with 50-1000 leaves. See our full selection of donor trees.
Dove of Peace
This dove will highlight a wall in your house of worship with a distinctive spiritual spirit. SIZE: 5′ wide and 6.5′ tall. CONSTRUCTION: The laser cut wings are attached to a cast fiberglass body with lovely detail. The wings feature laser-drilled holes for the screw mounting of donor leaves. OPTIONS: Available with 100, 150, 200 or 300 leaves.
Blessed Mother / Patron Saint Donor Wall
This beautifully-designed wooden donor or memorial wall, features the Blessed Mother, or your church's patron saint, surrounded by the names of your donors. SIZE: 60" wide by 54″ tall. CONSTRUCTION: Full color direct print on metal panels top the wood base and are affixed to the surface. Hanger bar installation.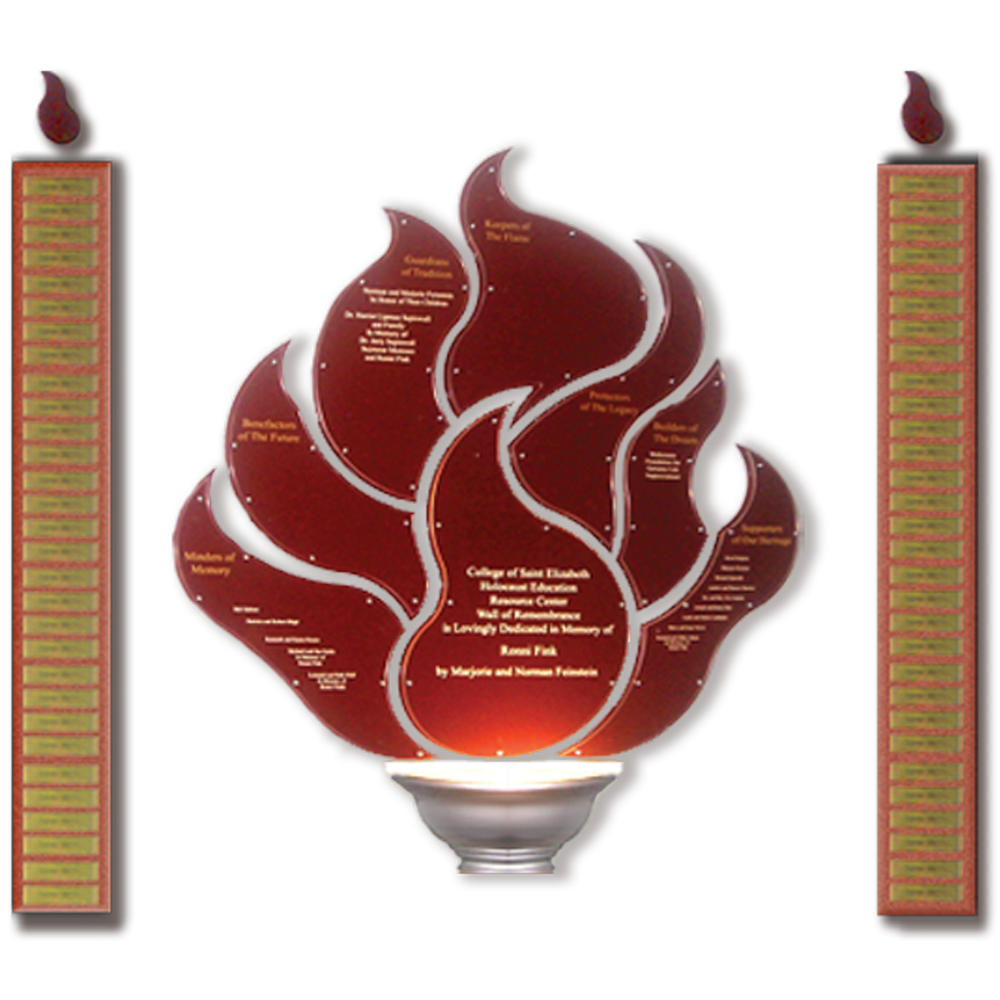 Eternal Flame
This custom display is a timeless symbol of  hope, faith and memorial, and can be replicated to meet your needs in size and specifications in a variety of materials. SIZE: The flame is overall 4.5' wide x 6' tall. CONSTRUCTION: Sculpted metal shaped individual flames with acrylic panels mounted to the surface.
CUSTOM PLAQUES
CELEBRATE THE CONTRIBUTIONS OF LEADERS OR DONORS
Cast Relief of Your Place of Worship
Take a photo of your house of worship and we will cast the picture into a 2 dimensional casting, with amazing detail. It can be displayed as a centerpiece for a capital fund raiser or as wall-hanging commemorating the original structure. OPTIONS: Fiberglass or bronze metal.
Bas Relief Bronze Plaques
Celebrate the contributions of your church leaders with a cast bronze bas relief plaque crafted to your specifications. CONSTRUCTION: Cast in bronze and mounted on a bronze background with raised letters. SIZE: 24" wide x 46" tall.
Custom Plaques
Lasting tributes to those who contributed to your church's ongoing success. Honor your leaders, key supporters & milestones. Decorative plaques use your organization's physical space to mark your important achievements & those who have helped you reach them.
RELIGIOUS DONOR WALLS WE HAVE CREATED
FOR CUSTOMERS JUST LIKE YOU
WE'VE BEEN HONORED TO WORK WITH THESE ORGANIZATIONS
TO DEVELOP A UNIQUE AND EFFECTIVE DONOR RECOGNITION PROGRAM