"You ARE an outstanding supplier in areas of quality control and customer service." ~ Thomas Bogdan

Unique solutions.

We have been designing premier donor wall solutions since 1994. We marry state of the art technologies and materials with high design standards to create unique donor wall systems you won't see anywhere else. We make updating your donor wall easy no matter which solution you choose.

Cleartek
This donor wall solution is perfect if you are showcasing a graphic or custom wall vinyl (wall mural) behind your name plates, and still want the versatility of being able to move/remove/change the plates.
Name plates are made of clear acrylic, and are screw-mounted, creating a sleek, modern feel.
Acetek
In this donor wall solution, your donor's names are inscribed on clear film acetate which is installed on the back of clear acrylic panels, which are held flush against the wall.
Like our Cleartek solution, this cost effective solution allows you to showcase a wall mural (custom wall vinyl) behind the clear acrylic panels.
Magnetek
Our Magnetek solution is one of our most popular systems because it is so versatile, allowing your donor wall to include placeholders that can be changed out as new donors come on board. And you can move/update plates as your campaign grows.
Using magnetics and solid surfaces like metal, stone, acrylic and Corian, we can use this solution to create a completely unique donor wall that looks perfect with your surrounding decor.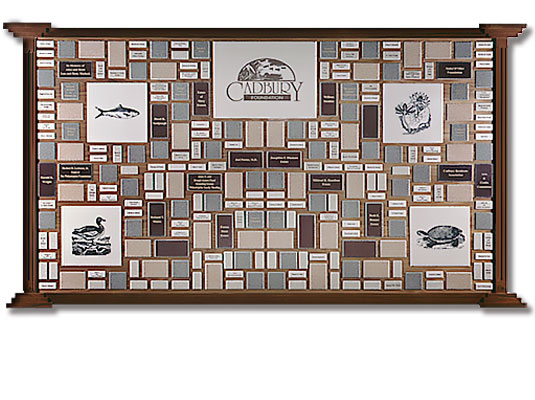 Free Form
If you are looking for a solution that gives you total control of the placement of donor name plates, this is the one for you. We will design a look for the whole donor wall, including the plates, which can be in various shapes and sizes depending on your needs and aesthetic.
The plates have an adhesive back, which allows you to place them in whatever configuration you want.
Stand-Off
Metal posts and caps suspend your name plates a distance from your wall surface, creating a dimensional look for your donor wall. Stand-offs can be different lengths, and combined with lettering and just the right lighting, you can affect off-set shadows for a dramatic affect.
Name plates and plaques can be made from various solid-surfaces.
If your aesthetic demands it, a cable system can be used in conjunction with stand-offs, and can be mounted from floor to ceiling or anchored directly to the wall.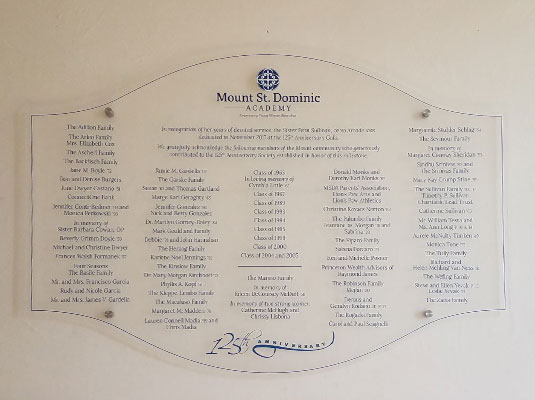 Permanent Displays
If you have information to display that will not change (time lines, historical tributes), or your capital campaign has closed, this is the solution for you.
You can combine various substrates for engraved information plaques, along with a vinyl wall mural for a long-lasting custom display.
Free Standing
Free standing donor walls are the perfect solution for locations where there isn't enough free wall space, or where you need a kiosk.
We can design a versatile custom display for you that is mobile and free-standing. It can include multiple segments, as needed.