"Everyone exhibited sensitivity while working with a site that is a Registered National Historic Landmark. The level of respect and care taken could not have been better." ~ Jon Newton, Chair, Founder's Keepers
We bring our decades of experience and 1800+ installations to the table in producing high quality, beautifully crafted donor recognition, custom displays & commemoratives. We work closely with our customers, from inception to installation, to craft an exclusive custom design display to fit your specific needs.
See why so many have come to rely on us:
Consult From our first conversation, we work to gain an understanding of your program, goal, and needs. This process can be completed in one conversation or over several, depending on how prepared you are with information needed to progress. At this time, we will address all of your questions, concerns, and the timeline necessary to meet expectations.
Initial Design Based upon our conversation and information shared, we translate what we have discussed into a preliminary concept to be sure we are on the right track. Frequently, we hit the target on our first attempt with a favorable design.  From here, we are typically able to provide a projected budget for the design selected, as well as material options for consideration while addressing any budget concerns.   Our experienced team will provide you with a to-scale illustrative design concept providing an accurate depiction of the final product as it would appear in your space.
Design Refinement & Engineering Once we have finalized all elements of the overall design, projected budget & materials, we move to detail refinement, sizing, quantities & CAD engineering of the concept. We will provide you with engineered drawings and material samples, for an exact representation of the final product.
Fabrication The time frame for fabrication is contingent on the complexity of the project and the materials selected. A custom wall, on average, can be fabricated in 4-6 weeks. Our standard design items require a much shorter production time and can often be completed within 2-4 weeks.
Shipping/Installation Our products are delivered assembled and ready to be installed. We supply all necessary hardware, directions, and template for easy installation by your team. Our experienced technicians are on hand to help with any questions. Should you desire, we also offer installation by our in-house team.
Our personalized service, superb craftsmanship and affordable pricing, enable you to deliver more of the funds raised directly to your organization.
WE USE A VARIETY OF PREMIUM MATERIALS IN OUR PROJECTS
Brass, Aluminum, Bronze, Wood, Glass, Acrylic, Corian, Avonite, Marble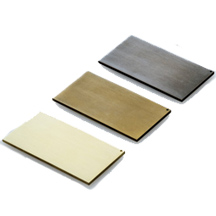 WE'VE BEEN HONORED TO WORK WITH THESE ORGANIZATIONS
TO DEVELOP A UNIQUE AND EFFECTIVE DONOR RECOGNITION PROGRAM