"these folks UNDERSTAND donor recognition programs and provide valuable guidance." ~ Jon Newton

Custom Donor Trees
A UNIQUE WAY TO RECOGNIZE YOUR DONORS
Our fabrication capabilities allow us to offer you the ability to bring your vision to reality in your space. From our custom contemporary adaptation of the ever-popular donor tree & tree of life that feature backgrounds of soft gradient colors that provide an appealing background for the leaves, to custom creations that speak to your mission, our wall trees encourage donations and raise funds by acknowledging donors with a beautiful donor recognition tree display.
Our donor trees are manufactured in wood, metals, acrylics and many other mediums, and you can choose from multiple leaf materials. Add a myriad of accessories so donor levels are clearly differentiated.
OUR UNIQUE APPROACH TO CUSTOM DONOR TREES
WE'RE THE ONLY ONES THAT OFFER THIS
Why settle for ordinary? Your custom donor tree can make a real visual impact!
Any donor tree we create can have a colored, or graphic background, and without effecting your budget negatively. Really, it is a no brainer.
Here are your choices to create a complete look:
Use one of our watercolor backgrounds.
Use your own custom graphic.
Engravable leaves come in five colors, distinguishing levels of giving.
Add accessories to designate the purpose of your campaign, or to recognize important donors.
Call now, to find out more. 800.873.3180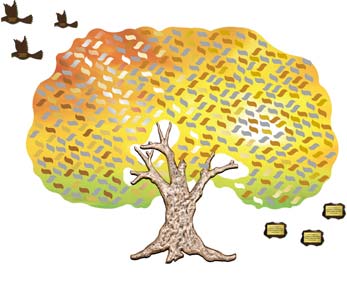 CUSTOM DONOR TREE PROJECTS WE HAVE CREATED
FOR CUSTOMERS JUST LIKE YOU
WE'VE BEEN HONORED TO WORK WITH THESE ORGANIZATIONS
TO DEVELOP A UNIQUE AND EFFECTIVE DONOR RECOGNITION PROGRAM