Donor Tree: Chi Eta Phi Sorority
Donor Wall: Pearl S Buck International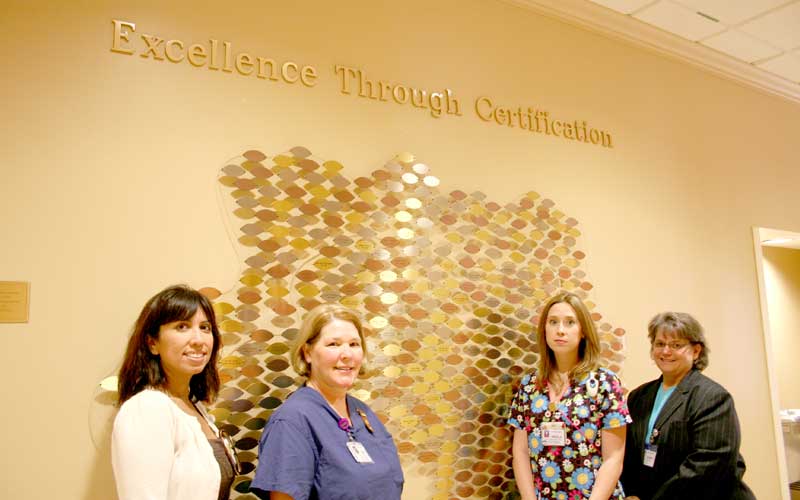 The nursing profession has a long and important legacy. From the first point of contact in a healthcare facility, to the moment they leave, nurses are on call, tending to the needs of their patients.
They are a liaison to those who are suffering. They offer a comforting presence and compassionate healing care.
During COVID-19, nurses have worked tirelessly on the front lines to ensure that people who need help are cared for. The pandemic has taken a toll on nurses' morale and mental health.
And, they often don't get the recognition that they heartily deserve.
Celebrating National Nurses Week
National Nurses Week, which begins on May 6, and ends on May 12, the birthday of nursing founder Florence Nightingale, is an exciting platform for healthcare leaders to show their nursing teams how much they are valued.
It is an entire week dedicated solely to the professional nurse – honoring them for the work they do, while also educating the public about the very important role nurses have in healthcare.
Though the week seeks to honor all nurses, there are specific days dedicated to certain nurses. May 6 is National School Nurse Day, May 8 is for student nurses on National School Nurse Day and May 12 is International Nurses Day.
During Nurses Week and Beyond, Recognition Is Key
Nursing, in general, is stressful and COVID-19 only amplifies that. Therefore, it's even more critical to use nurses week to reach out and celebrate the nurses around you and throughout the world. We need to keep nurses emotionally engaged with their work to continue providing excellent care to their patients.
What are some ways we can recognize nurses?
Recognizing nursing caregivers for the work they do and the contributions they make is vital.
From delivering high-quality patient care to positively impacting society, nurses are imperative to the success of their organizations, profession and healthcare in general. Ongoing recognition and celebration not only effectively showcases deep appreciation, it can also positively impact employee morale and improve engagement.
If you are a patient…
The pandemic has made celebrating nurses' week a bit more complicated. However, there are ways to honor nurses still. If a nurse helped you, you could provide them a thank you note or even a gift.
Or, if you prefer video, you can create a thoughtful or fun video to share with a nurse who has touched your family.
You can send the note, gift, or video to the facility or hospital you received care from.
If you are a healthcare facility…
Many hospitals and healthcare organizations hold celebrations and honorary receptions or banquets, state and city proclamations, fun activities and events. It's the perfect opportunity for leaders to express their thanks and appreciation for their nurses and nursing staff members.
Recognizing nurses for their achievements goes a long way toward boosting morale. During, Covid, you may need to postpone the in-person celebration. However, you can still host a virtual awards ceremony with the full leadership team.
Here are some ideas for something AMAZING to announce during this awards ceremony.
Recognition Products That Are Perfect For Nurses Week and Beyond
We offer….
Custom Recognition Walls
Recognition Trees
Dedication Plaques
Doves
A Distinctive Presentation
We can also create a custom recognition, in a modular wall system, that can grow with your staff. Our recognition wall system has a clean, modern look, appropriate for any healthcare setting.
Custom colors can be selected for your engravable name plates, to align with your interior design color palette, for an additional fee.
All of our recognition trees can be customized to project your mission, goals and the accomplishments of your team. We produce and install trees of any size. We blend various materials to create unique designs that enrich the appearance of your healthcare facility.
Dedication plaques can be added to any recognition display, for special recognition for nurses giving care above and beyond required duties.
Our doves stand at 5' wide and 6.5' tall, creating a beautiful wall-sized recognition display for your nursing staff. Our doves are available with 100, 150, 200, or 300 engravable plates to recognize your nurses.
Nurses Week is three weeks away. The time to start your recognition project is NOW!
Being able to announce the start of the creation of a permanent recognition program for your nursing staff during Nurses Week will leave a lasting impression in the hearts of your staff.
There is no better time that, captures their attention, than Nurses Week.
Three ways to get started: