Honor Wall: Alumni Military Service
Wall of Honor: Catholic Medical Assoc.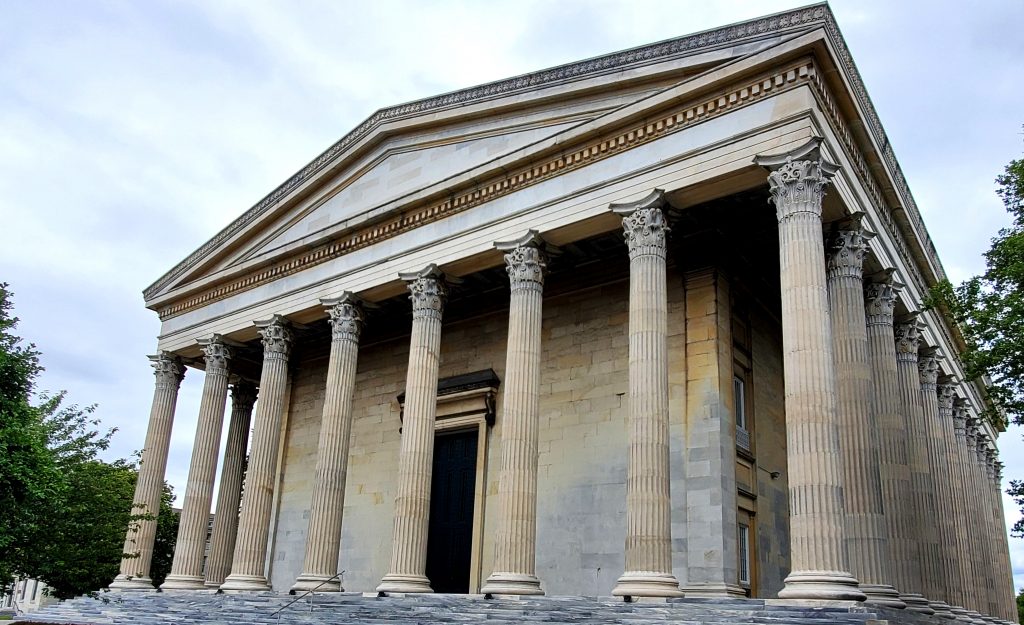 In October 2019, we were engaged to create a display that complimented the architecture of this Registered National Historic Landmark while engaging donors &  alumni to continue restoration efforts Founder's Hall, an iconic building that is the heart of the campus for both its' magnificent design and  sentimental significance of the alumni. Founder's Hall featuring unique space for events as well as a museum dedicated to Stephen Girard & his legacy.
Donor Wall Description
One of the unique features of this donor wall was its mobility. The 360-degree display is a 9' tall x 10' wide, wood construction with locking caster wheels. The Wall of honor features the accomplishments of the Founder's Keepers efforts to perverse and maintain their beloved Founder's Hall, highlighting their success with custom printed full color graphics. Donor names are on individual brass plates by level of giving and provide for future growth. The arched top has a dimensional Founder's Keepers Logo.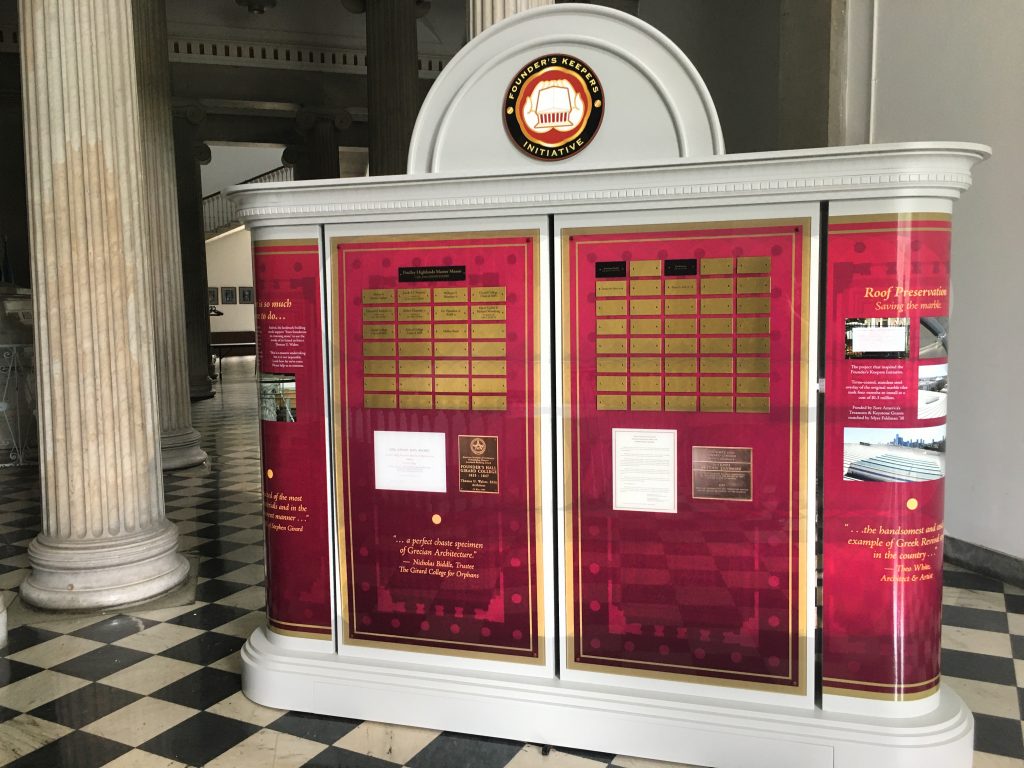 How We Met the Unique Challenges of this Custom Display Project
Given the National Landmark status of the building and numerous events that take place in spacious ballrooms of Founders Hall  combined with  the limited open wall space for a permanent installation, our efforts focused on how to create a display that could showcase the achievements of Founder's Keepers and their donor's while allowing the display to be focal in the various gathering spaces of Founder's Hall. Our answer was a Mobile 360-degree display.  Careful attention was placed on design to look at home in the Greek revival architecture to blend and compliment without competing with grand details from the 1800's construction.
What This Customer Had to Say Upon Installation

I was personally able to observe their performance from a  number of perspectives:

First, of course, was the planning stage. It is clear these folks have a thorough knowledge of the donor recognition function and can provide valuable guidance based on experience.
Second was the design phase. Their talent and execution here is best illustrated by the number of unsolicited compliments received on the completed installation — compliments that continue to be received well beyond the display dedication. The ability of their graphic designers to embrace a vague client concept and clarify, expand and improve on it is impressive and valuable.
The third was fabrication and installation. No question these folks know what they're doing. Our donor display had some demanding size, material and mobility requirements, all of which were met with high levels of resourcefulness and craftsmanship.
Finally, the management and crew exhibited sensitivity while working with a site that is a Registered National Historic Landmark. The level of respect and care taken could not have been better.

My endorsement is enthusiastically given!

Jon Newton, Chair, Founder's Keepers
Interested in a custom donor wall for your organization?
We excel at designing and manufacturing donor walls that maintain your aesthetic while staying in control of the project budget.
Call now, to find out more 800.873.3180 or click here to schedule a 15 min consult.